The body you are wearing used to be mine.' So begins the letter Myfanwy Thomas is holding when she awakes in a London park surrounded by bodies all wearing latex gloves. With no recollection of who she is, Myfanwy must follow the instructions her former self left behind to discover her identity and track down the agents who want to destroy her.
She soon learns that she is a Rook, a high-ranking member of a secret organization called the Checquy that battles the many supernatural forces at work in Britain. She also discovers that she possesses a rare and deadly supernatural ability of her own.
Filled with characters both fascinating and fantastical, The Rook is a richly inventive, suspenseful fantasy. An astonishing debut from a brilliant new voice.
Ein richtig tolles Fantasy Buch! Urban Fantasy hatte so einen Aufwind in der letzten Zeit, dass viele dieser Geschichten sich etwas ähneln. Nicht so bei diesem Buch.
Die Protagonistin verliert ihr Gedächtnis, ist aber schon ein etablierter Teil der Geheimorganisation, die sehr interessant aufgebaut ist und mir auch heute noch ständig im Kopf herum geht.
Das Buch hat einen sehr interessanten Aufbau, mit lustigen Charakteren. Insgesamt habe ich nur einen einzigen Kritikpunkt: der Hauptcharakter hat sich nicht wirklich weiterentwickelt, zumindest hatte ich so das Gefühl. Sie hat sich zwar super in ihre Rolle eingefunden mit der Zeit, aber mir wurde schon schnell klar, in welche Richtung das ganze geht.
Insgesamt aber ein sehr empfehlenswertes Urban-Fantasy Buch!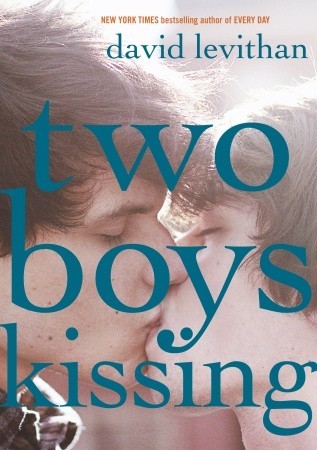 New York Times bestselling author David Levithan tells the based-on-true-events story of Harry and Craig, two 17-year-olds who are about to take part in a 32-hour marathon of kissing to set a new Guinness World Record—all of which is narrated by a Greek Chorus of the generation of gay men lost to AIDS.
While the two increasingly dehydrated and sleep-deprived boys are locking lips, they become a focal point in the lives of other teen boys dealing with languishing long-term relationships, coming out, navigating gender identity, and falling deeper into the digital rabbit hole of gay hookup sites—all while the kissing former couple tries to figure out their own feelings for each other.
Auch ein Buch, dass ihr unbedingt lesen müsst! Ich habe mir dieses Buch ursprünglich wegen dem Cover gekauft, da ich gehört habe, dass das Buch ein anderes bekommen soll - nur weil sich ein paar homophobe Menschen deswegen aufgeregt haben. Da musste ich natürlich unbedingt etwas dagegen machen!
Die Form ist wunderschön, das Buch ist nämlich in der Wir-Perspektive geschrieben und das hat mir wirklich gut gefallen! Es war anders und doch konnte man sich mit den Charakteren unglaublich gut identifizieren.
Es ist auch kein trauriges Buch, insgesamt ist es sehr hoffnungsvoll und man hat richtig mitgelitten.
Klares Fünf-Sterne Buch und eine grosse Leseempfehlung von mir!
It is not a peaceful time in the Dells. The young King Nash clings to his throne while rebel lords in the north and south build armies to unseat him. The mountains and forests are filled with spies and thieves and lawless men.
This is where Fire lives. With a wild, irresistible appearance and hair the color of flame, Fire is the last remaining human monster. Equally hated and adored, she had the unique ability to control minds, but she guards her power, unwilling to steal the secrets of innocent people. Especially when she has so many of her own.
Then Prince Brigan comes to bring her to King City, The royal family needs her help to uncover the plot against the king. Far away from home, Fire begins to realize there's more to her power than she ever dreamed. Her power could save the kingdom.
If only she weren't afraid of becoming the monster her father was.
Endlich habe ich es geschafft und den zweiten Teil der Graceling Trilogie gelesen! Die Beschenkte habe ich vor Jahren gelesen und geliebt und nun bin ich endlich auch dazu gekommen, mit der Reihe weiterzumachen. Und ich fand den Folgeband sogar noch besser als den ersten Teil! Fire ist so ein interessanter Chrarakter, ich liebe ihre Entwicklung und die Beziehungen sind einfach nur toll. Ah! Der ganze Monster Aspekt war sehr interessant und ich fand es sehr interessant, mehr über die Hintergrund Geschichte von Leck zu erfahren - obwohl ich dachte, er würde eine grössere Rolle spielen. Und endlich war ich wieder zufrieden mit einem Ende!
Unbedingt mit der Reihe anfangen, wenn ihr High Fantasy liebt!
On a world supported on the back of a giant turtle (sex unknown), a gleeful, explosive, wickedly eccentric expedition sets out. There's an avaricious but inept wizard, a naive tourist whose luggage moves on hundreds of dear little legs, dragons who only exist if you believe in them, and of course THE EDGE of the planet...
Terry Pratchett und seine Diskworld gehören so zu den Dingen, die man einfach kennen muss. Diese Geschichte ist wirklich einfach nur durchgedreht. Jedes Element dieser Welt ist irgendwie aus unserer kopiert, aber überspitzt und auch ein bisschen ins lächerliche gezogen - deswegen gehört es auch zum Genre humoristische Fantasy. Genial fand ich auch, wie der Held eigentlich gar kein Held ist und insgesamt ein richtiger Loser. Ich mag solche Helden unglaublich - mindestens so genial war aber Twoflower als Tourist! Mit den zwei gibt es immer wieder Situationskomik und ich kann gut verstehen, warum so viele von dieser Reihe begeistert sind. Mein einziger Kritikpunkt: ich brauchte so lange, um das Buch zu lesen, obwohl es eigentlich recht kurz war.
High in his attic bedroom, twelve-year-old David mourns the death of his mother, with only the books on his shelf for company. But those books have begun to whisper to him in the darkness. Angry and alone, he takes refuge in his imagination and soon finds that reality and fantasy have begun to meld. While his family falls apart around him, David is violently propelled into a world that is a strange reflection of his own -- populated by heroes and monsters and ruled by a faded king who keeps his secrets in a mysterious book, The Book of Lost Things.
Taking readers on a vivid journey through the loss of innocence into adulthood and beyond, New York Times bestselling author John Connolly tells a dark and compelling tale that reminds us of the enduring power of stories in our lives.
Ein kleiner Junge, welcher in eine Märchenwelt kommt, in der nicht alles Friede, Freude, Eierkuchen ist. Die Abänderungen der gewöhnlichen Märchen, die hier vorgenommen werden, sind interesasnt und auch unglaublich lustig. Schneewittchen ist eine Tyrannin, die böse Hexe aus Hänsel und Gretel eine Jägerin, welche am liebsten Mischungen zwischen Menschen und Tieren jagt. Und der kleine Ben(?) muss sich durch das alles kämpfen und das Geheimniss eines verschwundenen Verwandten lüften. Leider hatte ich auch hier sehr lange, durch das Buch zu kommen - das lag aber warscheinlich mehr an meiner damaligen Stimmung, die Geschichte hat mir nämlich sehr gut gefallen!